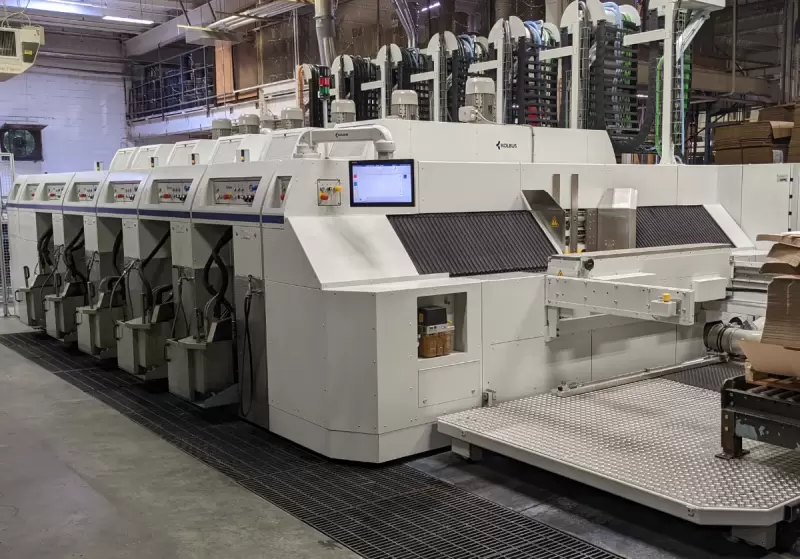 New England Wooden Ware Packaging & Display has recently introduced their new Kolbus RD 115S to their customers. Read on to find out what this customer has to say about their new machine. 
"NEWW Packaging & Display is excited to present our new Kolbus RD115 five color rotary die cutter. This press is equipped with the latest technology for high end flexographic printing, including full servo drive design, dual bladed ink chambers, effective dust collection, anvil grinding, and enhanced sheet control. This new investment has replaced our Hycorr Hygraphics rotary die cutter and will allow us to deliver significantly better quality print as we grow to meet our customer's future expectations," said a NEWW Packaging and Display spokesperson.
"Most components of the press are independently driven by Siemens servo drive technology, which results in more precise print registration and hopefully in the long term, less maintenance. Color to color registration is twice as tight as the machine that was replaced. Our formulations of water-based ink will remain the same for now, but the capabilities of the RD115 will allow us to move towards more and more challenging work, with higher line screens and process print on corrugated. In addition, the dust collection systems have allowed NEWW operators to run longer without the need to stop and wash plates, increasing our uptime," NEWW Spokesperson continued.
Read the full testimonial here